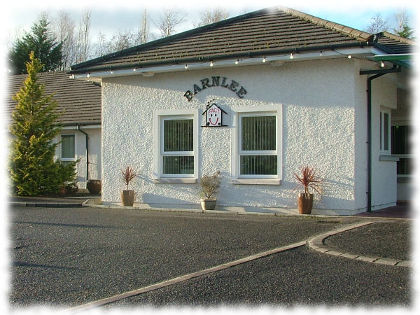 Barnlee is situated on the outskirts of Lisnaskea on the Derrylin Road. It is in close proximity of local shops, Post Office, Health Centre, Leisure Centre, Library, Hotel and Churches.
Barnlee was purpose built in 1996 with 16 en-suite wheelchair accessible bedrooms ensuring privacy and dignity for each resident. Since then we have added more accommodation and now accommodate 19 adults.
Barnlee is a one storey building with an excellent communal activity area, sitting room with small snack kitchen attached, main kitchen and dining room, therapy kitchen where residents can cook or have cookery lessons, multi sensory room, Parker Spa Bathroom, Quiet/Prayer Room. Patio doors lead from the activity area to a safe large garden at the rear of the building.
The care in Barnlee and Lee Cottage is based on:
A Personalised approach with individuals, their families and care teams to establish a programme to maximize the overall quality of life and choice for each resident.
A safe environment with a real family atmosphere
Provide exceptional and consistent standards of individual personal care in all aspects of daily living and social skills.
Encourage each resident to realise their full potential.
Actively encourage involvement of Residents and their families in the on-going day-to-day activities.
Provide freshly prepared, nutritionally balanced meals for each individual resident's dietary requirements.
Barnlee is staffed on a 24 hour basis with waking night staff. A requirement for each member of staff is to attend regular training sessions.
The three major themes within Barnlee and Lee Cottage are:
Choice – Accessibility – Enjoyability